NiQuitin® Pre-Quit Clear Patch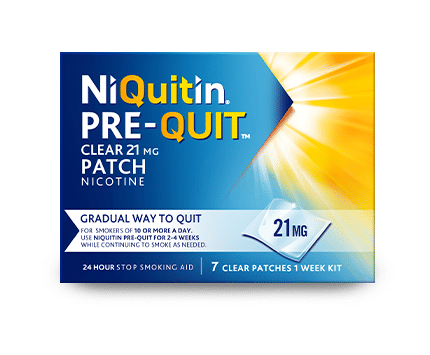 Suitable for those who smoke 10 or more cigarettes a day
Great for those who have found it hard to quit in the past
Eases you into quitting as it allows you to smoke as needed for 2-4 weeks before your quit date
Once daily application
24 hours cutting down smoking aid
* 4mg only
Pre-Quit Nicotine® Patches for
Cutting Down

Smoking

NiQuitin's Pre-Quit Clear 21mg Patches are made to help reduce the number of cigarettes you smoke before stopping completely. This is a great option for those who have tried and struggled to quit in the past. The patch releases nicotine into your system over a 24 hour period, so you can cut down and feel fully prepared for when you do give up.

The Pre-Quit nicotine patch is intended as a nicotine replacement therapy product that you can use while smoking. This shouldn't be used as a long-term treatment but instead for 2-4 weeks prior to your quit date. This means you can smoke whenever you need but the patch can help you to feel less need to reach for a cigarette.

We recommend using the Pre-Quit Clear 21mg Patch prior to our step-down programme.
Set a quit date
Cutting down smoking to quit is likely to be more achievable when you've set a quit date for yourself.
It's best to stop smoking during a quiet period of your life. Smoking cessation can cause cravings which might lead to irritability. So, it's often more achievable when you aren't stressed or under pressure. Check your diary, pick a convenient date in the future when you think you're ready to stop and as it approaches you can begin to reduce the amount you smoke with our Pre-Quit Clear 21mg Patches.
The NiQuitin®
step-down

programme

The NiQuitin® step-down programme is designed to help you cut down the strength of nicotine over time. Begin step 1 once you've completed your cutting down process using our Pre-Quit nicotine patches. If you require assistance on your quitting journey, consult a healthcare professional about nicotine replacement therapy.