NiQuitin® Minis Lozenges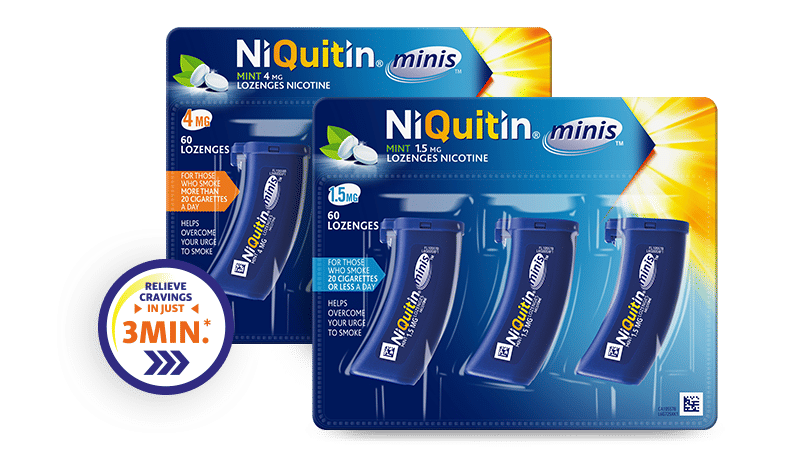 Starts to relieve cravings in just 3 minutes*
Handy pocket-sized container you can always keep with you
Dissolves in the mouth in approximately 10 minutes
Use to stop smoking or to cut down how many cigarettes you smoke
Effective on the go craving relief
* 4mg only
How NiQuitin Minis Lozenges help you
cut down

and

quit smoking

When you have an urge to smoke, try NiQuitin Minis Lozenges. The small, mint-flavoured lozenges come in a handy pack shaped like a lighter, offering rapid relief* from nicotine cravings. We know that lighting-up can be a hard habit to break.

So the next time you have an urge to smoke, reach for NiQuitin Minis instead of your lighter.
Which NiQuitin Minis Lozenges
is right for you

?

Find a product to help meet your needs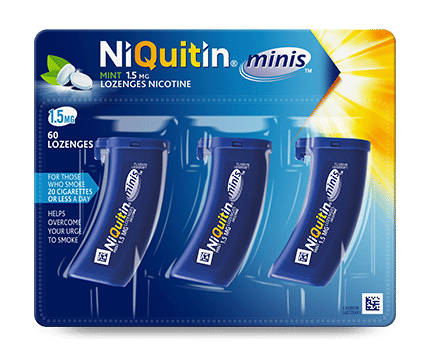 if you smoke 20 cigarettes or less a day.
for relief from sudden cravings
NiQuitin® Minis
1.5mg
Put one lozenge in your mouth and periodically move the lozenge from one side to the other
Use 8-12 lozenges each day, up to a maximum of 15
Continue use for up to 6 weeks while reducing the number of lozenges per day. Once daily use is 1-2 lozenges a day, try to stop using them altogether
if you are having difficulty discontinuing using lozenges or you are unable to reduce your cigarette consumption after 6 weeks, consult a health care professional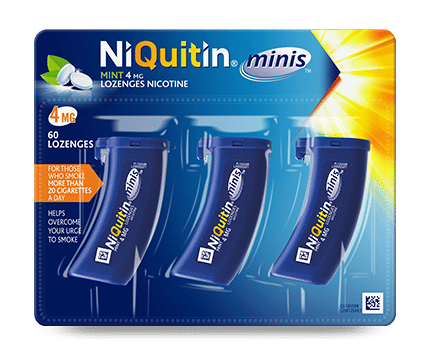 If you smoke more than 20 cigarettes a day.
for relief from sudden cravings
NiQuitin® Minis
4mg
Put one lozenge in your mouth and periodically move the lozenge from one side to the other
Use 8-12 lozenges each day, up to a maximum of 15
Continue use for up to 6 weeks while reducing the number of lozenges per day. Once daily use is 1-2 lozenges a day, try to stop using them altogether
If you are having difficulty discontinuing using lozenges or you are unable to reduce your cigarette consumption after 6 weeks, consult a health care professional